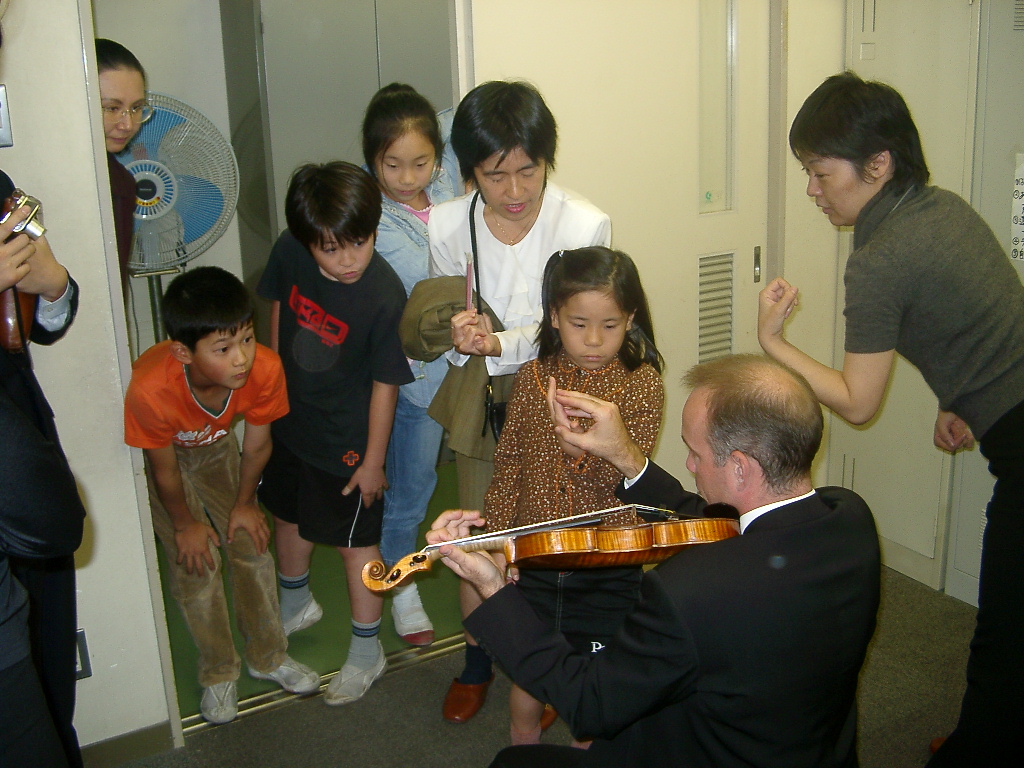 Starting to teach violin at the age of 17 while still enrolled in a public music school in Berlin, Germany, I have been offering violin lessons now for over 30 years. Through high school I often bought tickets for the Berlin Philharmonic, when H.v.Karajan was their principal conductor. My teacher was married to a solo cellist in that orchestra, whose members I knew all by memory and felt connected with. Growing up in a city with such a rich music life surrounded by several major symphonies and opera houses, I was grateful to be accepted at the Hochschule der Künste, first with Rainer Kimstedt, first violinist of a local string quartet, then with Hans Maile, concertmaster of the Berlin Radio Symphony. When encountering some difficulties on the violin that did not want to resolve so easily, I decided to spend two years of postgraduate studies at the Guildhall School in London. First I took lessons with Yfrah Neaman, a student of Carl Flesch and Jacques Thibaut, later with David Takeno, co-founder of the Tokyo String Quartet. Back in Germany and after a couple of auditions, I ended up winning the audition for a 1st violin position in the Deutsche Symphony Orchester Berlin (DSO) and became part of my hometown's bustling music culture.
Having studied in two different countries and experienced the great Russian-Jewish violinist Nathan Milstein in his masterclasses in Zurich, I later worked with a few experts of historical interpretation of baroque and classical music, like Nikolaus Harnoncourt, Thomas Hengelbrook, Tom Koopman and Roger Norrington. At the same time, the DSO had a good reputation for contemporary music and recording a repertory off the beaten path. Although a full time performing musician for most of my career in Europe, I had always been interested to share what helped me on my way to master my instrument, to pass on our musical heritage to the next generation and raise an awareness of historical context and style. Through my orchestra work I was lucky to perform with many well known soloists. During my time in the orchestra, those guest artists were an inspiration to my own playing and teaching. My international concert experience as an orchestra player, chamber musician and soloist keeps helping me to support others in various ways in their technical and musical challenges, while making violin playing fun and interesting.
That is why I had also engaged in building up the DSO String Academy Program from 2000 until 2005, a program that supports advanced music students to learn orchestra parts, play chamber music and train for auditions. Today I enjoy working not only with beginning professionals, but with children, teens and adults of all levels. With patience and understanding the different needs of different players, depending on background, their goals and ages, I avoid following a single system or school. I rather aim to integrate different elements from various musical and instrumental approaches. Students can learn how to play with or without shoulder rest, participate in the choice of repertoire, get help for special technical questions, and try out many different bowings, fingerings and styles to find their own way to play - because every violinist is a creative individual. From my own experience, I believe that we cannot learn everything from one single teacher. Thus I am open to work with students regularly, but don't mind being approached as a consultant or special project coach. I do not limit my violin teaching to the bare instrumental, love to raise curiosity for general musicianship, history, style, and the meaning of a score. Having played in several youth orchestras, I am at ease with coaching orchestra sections and help young musicians to master the vast repertory of symphonic and chamber music. For the past five years I directed the Advanced Chamber Music program at Marin Academy in San Rafael.
For private lessons I prefer to come to my student's places in the Bay Area, notably in San Francisco, the East Bay and Marin, but also have access to studios if necessary. Lessons can be held in English, German or French. In some cases Skype sessions can be arranged as well. Contact me for a trial session if you're interested in violin lessons in the San Francisco Bay Area.
Karsten